Robotics CoLab @Circuit Launch
Tue, Jan 12, 2021, 10:00 AM PST – Fri, Apr 2, 2021, 5:00 PM PDT
Circuit Launch, 8000 Edgewater Drive, Oakland, CA, USA
Learn the bleeding edge from those building the bleeding edge
You have to make robots to learn how to make robots - Nicolas Rabault CEO Luos
The Robotics CoLab @Circuit Launch is a unique 12 week robotics program based on an experimental model of hardware engineering education.
It is a collaborative, 100% project-based, self directed learning experience where you are supported by experts who help you accelerate your knowledge and skill development goals.
TWO LEARNING PATHWAYS
For the Winter 2021 cohort we are offering a team based program plus an individualized program. For the team program, students work on a single project with other students. For the individualized program students work on their own project.
The Individualized Program is built around your specific learning goals. Come with a project idea or build a project pathway with our advisors and mentors based on what you want to learn.
The Team Project Program will be exploring human - robot interaction on the open source humanoid robot "Reachy" by Pollen Robotics.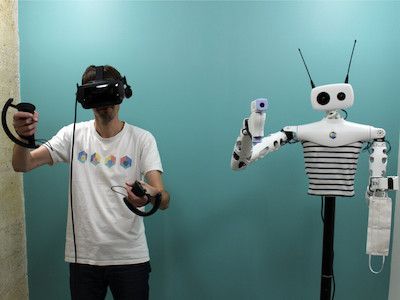 Building on the success of last session with Reachy, we will be exploring the world of Human Robot Interaction Design.
Software Goals: Explore applications within the Reachy platform beginning with basic human games such as Tic Tac Toe to Simon Says. We will expand the exploration based on the goals of the team of students in the session. Possibilities include full telepresence integration, to virtual reality integration for control and interaction. Other opportunities include integrating ROS (Robot Operating System).
Hardware Goals: This session we will be focusing on ways to expand movements to express emotion and interactivity. We will be adding a second arm, continuing development on the Orbita neck joint, and supporting the software developments with remote development on our Reachy.
The components and materials will be provided; you and your team will build and document your process publicly contributing to this Open Source Project.
PROGRAM STRUCTURE
Each week we will be implementing a widely used industry standard SCRUM Project Management process for the team. You will be engaging in weekly sprints towards our eventual goal and be held accountable for your tasks by your team members.
Custom specialized workshops, mentor-led study halls, and intensive knowledge deep dive sessions will be held weekly throughout the program. These sessions are intended to target knowledge and skill gaps, and provide momentum to overcome obstacles.
Technical mentors will be guiding students along every step of the way; not lecturing, but enabling you to learn by doing.
ENTRANCE CRITERIA
For the team program, applicants will be chosen based on experience in at least one field of technical knowledge that is applicable to the project. No more than 50% of the students can be exclusively virtual. If you are not accepted for the Team Program you will have the option to join the Individualized program.
ATTENDANCE
Students can participate virtually or in person. During COVID, we have a limit of 10 students in the Lab at any one time. Please see information below regarding COVID compliance.
The program commences Tuesday 12 January and concludes Friday 2 April 2021. At least 20 hours per week commitment is required which includes 6 hours per week of formal face to face time during weekdays.
COLAB FEES
This program is currently 90% off and will be full fee starting next session (spring 2021).
If your application is successful, you will be notified via email and once you accept, a deposit/payment will be due.
COVID COMPLIANT
This program is COVID compliant. Full social distancing and safety protocols are in place. Team sessions are part virtual and part small group in-person. The individual program can be attended virtually or in-person.
For greater details regarding the program, check out our blog or contact us.