Training Bootcamp: Boston Dynamics Spot
Mon Jul 12, 10:00 AM - Fri Jul 16, 5:00 PM (PDT)

Virtual + In-Person (Discord + Circuit Launch), 8000 Edgewater Ste 200, Oakland, CA, USA
Mechlabs @Circuit Launch is a unique collaborative project-based learning experience.
Accelerate your knowledge and skill development goals with help from industry professionals and experts in robotics.
Training Bootcamp with Boston Dynamics Spot
Get hands-on experience and training on the Boston Dynamics quadruped Spot.
This intensive week follows our project based learning at Mechlabs (formerly CoLab). You will be familiarizing yourself and your teammates on the safe operating procedures and capabilities of Spot.
This course is a rare opportunity to learn the skills and experience to operate and develop on this incredible robot. If you are interested in getting hands on with Boston Dynamics Spot, this is one of the very few trainings offered anywhere in the world. Furthermore this is one of the only chances most of us will get to play fetch with such an advanced commercial robot. This is an excellent training to differentiate you from others to potential employers, or to explore what a robot like this can do without spending $70k.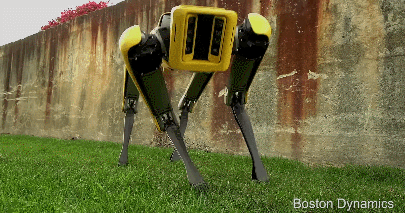 Project: Search & Rescue a Child
You will need to successfully and safely bring Spot online and have him navigate an obstacle course to perform a search and rescue mission of a lost child (humanoid doll).
During the week we will be scheduling individual one-on-one time with spot for every participant, and there will be team sessions where the group will have access to running spot together.
Just like all the sessions of Mechlabs, there is no curriculum or lectures you are required to follow. However we have plenty of resources and mentors to help you
Milestones:
Connect and interface with Spot's API
Run Spot Base Services safely and properly
Create a simple program that commands Spot using the API to do a choreographed movement
Develop an autonomous path through the obstacle course and test on Spot
Capture onboard data from Spot and identify lost child's location
PROGRAM STRUCTURE
You'll be hands-on from day one. Our program is 100% project based.
Technical mentors will be guiding students along the way; not lecturing, but enabling you to learn by doing. Collaborative work sessions allow time for research, exploration, and experimentation.
Schedule
Monday - Friday 10am-5pm (45min lunch break)
Sessions will be a mix of collaborative work sessions, research and independent study time. There will be one on one time with Spot scheduled for each student as well as group sessions where we will all get a chance to control the robot.
ENTRANCE CRITERIA
You should have an intermediate understanding of python and linux. A laptop or mini-pc (like a NUC) with Ubuntu 18.04 installed is highly recommended. Loaners or rental laptops are available if needed.
ATTENDANCE
Students can participate virtually or in person. There are only 7 spots available for virtual and 8 spots available in-person.
This is a full time program and students are expected to be on-time and stay for the full session time. There are limited spots available for this program and it is expected you have committed & devoted your time exclusively to this program. Please don't expect to be able to juggle other major time commitments during this week. Take your time off work, or tell your boss you are unavailable during this time. Thanks for respecting everyone else's commitment to the program by being present.
COVID COMPLIANT
This program is COVID compliant. Full social distancing and safety protocols are in place. Team sessions are part virtual and part small group in-person.
For greater details regarding the program, contact us.
Virtual + In-Person (Discord + Circuit Launch), 8000 Edgewater Ste 200, Oakland, CA, USA